Dr Aldrin Villanueva Bautista, Principal Dentist
Dentistry is My Passion in Life!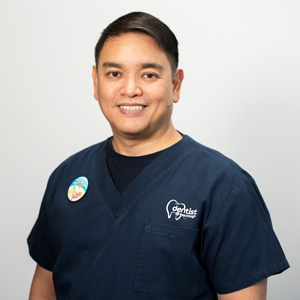 Growing up, Dr Aldrin experienced frequent dental treatment and didn't have the best experience. He was inspired to become a dentist so he could help people achieve good oral health and avoid extensive dental treatment.
I am passionate about giving my patients the highest quality treatment and experience. It is something I continually strive for."
Education and Experience
To prepare for his career in dentistry, Dr Aldrin earned a Doctor of Dental Medicine from The University of the East, College of Dentistry, in Manila, the Philippines. He graduated in 1995. He also participated in an externship program at Veterans Memorial Medical Center, the Philippines. While there, he provided war veteran patients with oral healthcare. He also has taken a broad array of professional development courses:
Mini-Residency in Orthodontics
Radiation Protection for Cone Beam Dental Digital Tomography
Myofunctional Orthodontic Courses
Emulating Natural Morphology-simplified Approach to Aesthetics
Sleep Apnoea: More Than Just CPAP
Nasal Obstruction in Children and Adults
Professional Memberships
Dr Aldrin is a member of the following: Philippine Dental Association, Dental Board of Australia-Certificate of Registration, Australian Dental Council-Registration, and the Australian Dental Association.
Living an Active Life in Westleigh
Outside the practice, Dr Aldrin enjoys spending quality time with his family and catching up with their activities. He also likes going to the movies, playing, eating, meeting up with friends, riding his mountain bike and hitting the trails.

Dentist @ Westleigh | 02 9446 5500