Dentures in Westleigh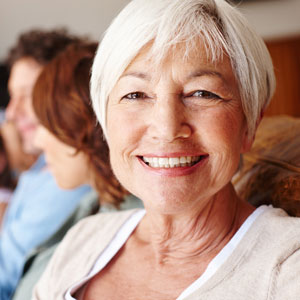 If you're in need of full mouth rehabilitation, then our custom-made dentures are a perfect solution. Dentures (also known as "plates") restore your missing teeth, giving you a confident and more functional smile. Not only do they allow you to enjoy your favourite foods once more, but they also prevent your facial features from sinking in – a common side-effect of missing teeth.
At Dentist @ Westleigh, our oral health care professionals are highly experienced at fitting dentures, so you know you're in safe hands.
How Do Dentures Work?
When it comes to fully-restoring your smile with dentures, there are three types available: custom full arch dentures, partial dentures, and implant supported dentures.
Custom full arch dentures replace all of your upper and lower teeth at once. The denture rests directly on top of your gums, which creates a seal to hold them securely in place.
Partial dentures are suited to those with some natural teeth in their mouth. They replace only your missing teeth by fitting around them.
Implant supported dentures are a fixed solution to dentures, and unlike full and partial dentures, they do not need to be removed each night. Affixing the denture on top of implants allows them to be more secure and stable.
The Denture Process
Obtaining dentures is a simple and straight-forward process that varies depending on the type of dentures you're having fitted. Generally, our dentist will thoroughly examine your mouth first, before taking digital imagery and impressions. In some cases, teeth may have to be removed, however our professional team will walk you through all of the steps required.
In the case of an implant-supported denture, our dentist will fit you with an implant – a process that can take up to 2-3 months to allow for the implant to fuse with the surrounding bone and gum tissues.
Our dentures are custom-made at a trusted lab to perfectly suit your mouth. The finished prosthetic is then fitted to your mouth, before our dentist will advise you on how to best care for your new restoration.
Restore Your Beautiful Smile
Do you have missing teeth which are affecting your smile, confidence, and the function of your mouth? Please schedule a consultation at Dentist @ Westleigh to find out how dentures can help you!

Dentures Westleigh, Thornleigh, Normanhurst NSW | 02 9446 5500